Tue, 27 April 2010
SciFi Diner Podcast Ep. 58 – Our Interview With Lee Arenberg from Once Upon a Time, Pirates of the Caribbean and Star Trek.
SciFi Diner Podcast Ep. 58 – Our Interview With Lee Arenberg from Once Upon a Time, Pirates of the Caribbean and Star Trek.
Comments[0]
---
Thu, 22 April 2010
SciFi Diner Podcast Ep. 57 – Our Interview With Michael C. Dougherty, Producer & Director of Browncoats: Redemption, A Firefly Fan Film.
SciFi Diner Podcast Ep. 57 – Our Interview With Michael C. Dougherty, Producer & Director of Browncoats: Redemption, A Firefly Fan Film.
Comments[0]
---
Mon, 5 April 2010
SciFi Diner Podcast Ep. 56 – An Interview With Actor Felicia Day (The Guild, Dr. Horrible, Dollhouse, and Red)
The SciFi Diner Podcast
Please call the listener line at 1.888.508.4343, email us at scifidinerpodcast@gmail.com
or visit us on Twitter @scifidiner.
Tonight's Diners: Scott & Miles
Welcome to the Diner.
If you have listened to the show for sometime, we would love to have you leave feedback on iTunes. We know not all of you use iTunes, but for those that do, it helps us become more visible. If you don't use iTunes, your feedback is still valuable. Visit our web page at http://scifidinerpodcast.com and leave a comment on the show notes or email us at scifidinerpodcast@gmail.com We want to know what you are thinking about what we are saying and what shows you are watching!
On the menu tonight:
Tonight on the science fiction menu, we serve up a wonderful interview with the beautiful Felicia Day, and, just by answering some trivia, you can win a signed print to boot. We discuss the Caprica Season Finale, The Guild takes the Streamys, SyFy picks up Streamy winner Steampunk Fantasy Reise, we give you Mile's Clash of the Titans review (in 3D), we're gonna discuss Small, what critics are calling the next 2001/Blade Runner, LOTR on Blu-Ray? True Fans are not fans. We'll tell you why. Since this is a diner, we'll also talk about a Star Wars AT-AT made of Bacon. Last we chat about a dancing Storm Trooper in Paris (not because we're a diner.)
The Interview:
We had the privileged of interviewing Miss Felicia Day, known for her work on The Guild, Dollhouse, Legend of Neil, Dr. Horrible's Sing-Along-Blog, and Buffy. She also stars in the upcoming SyFy Fairy Tale adaptation complete with Werewolves "Red." She talks about The Guild and The Guild Comic Booksthat are currently being published. She also talks about what it is like being a girl gamer.
Show News:
Trivia:
Prize: A signed Felicia Day Guild Print
Question: In Dr. Horrible Sing-Along-Blog, Felicia Day's Character is called Penny. After she dies, how does the newspaper refer to her?
You will have two weeks to answer this question. Send your answer with your mailing address to scifidinerpodcast@gmail.com, call us at 18885084343, or DM us on Twitter at @scifidiner.
Podcast Promos:
The Main Course:
TV News:
Caprica: Record demo ratings for mid-season finale, scoring 1.7M total viewers. Nice work! Compared to the first 5 eps of Caprica, the last 4 were up 21% in Adults 18-49 & 12% in Adults 25-54. Always good to see!
Felicia Day and The Guild PWN at the Streamy Awards
The Streamy Awards, honoring Web programming, singled out two talents from The Guild—Felicia Day's Web series about an online World of Warcraft guild meeting in real life—at the International Academy of Web Television's second annual awards ceremony, Sunday at the Orpheum Theater in Los Angeles.
Day herself won for best female actor in a comedy Web series for the second year in a row. As the creator and writer of the series, winning acting awards was her plan all along. "It means quite a lot, because I created this role for myself because I didn't see that role out there and I didn't see myself getting that role even if it was out there in Hollywood," Day said. "That's just the way I am. I'm a little quirky. This is for geek girls everywhere. I hope I continue to make content in the future and act in roles in the future that inspire people to go on and create themselves."
The Guild director Sean Becker won for best directing for a comedy Web series, his first Streamy. The show won awards last year for best comedy Web series. Becker was especially proud to win for directing because he's seen the competition get even tougher.
"We had the first Streamys last year and the Streamys this year, and I feel that the competition has gotten so much more intense this year," Becker said. "One good thing about the Guild is that they had come in early, so we kind of got to build a following. Now we're at that level where I believe it's just completely equal ground. To be even nominated, I know that's the cliché to say, but there are a lot of Web shows out there, so to be able to still be acknowledged is just great."
Syfy goes steampunk with fantasy-adventure series Riese
A mysterious wanderer named Riese has been on the run in an online futuristic fantasy-adventure series—and now she (along with her webisodes) has run all the way to Syfy. Syfy Digital has acquired the rights to the entire award-winning 10-part series with an eye toward possibly developing it for broadcast on air, just as the channel did with the Web series Sanctuary.
Here's Syfy's official announcement.
SYFY DIGITAL ACQUIRES RIESE
ACCLAIMED, STREAMY AWARD- WINNING 10-PART FANTASY-ADVENTURE WEB SERIES FOR FALL 2010
Season One and The Never-Before-Seen Season Two To Be Streamed on Syfy Digital With Eye Towards Development for Broadcast
New York, New York - April 8, 2010 - Syfy remains on the forefront of cutting edge fantasy based digital entertainment with the acquisition of the highly acclaimed web series, Riese, it was announced today by Craig Engler, SVP and GM of Syfy Digital. Syfy Digital has acquired the rights to the entire 10-part series - which is distributed by Fireworks International, the television and digital distribution arm of ContentFilm plc - with an eye towards development for a broadcast air. Riese consists of two five-part episode seasons, with season two premiering fully for the first time exclusively on Syfy.com. Season one and two are both slated for a digital launch in the fall 2010.
For web only.
"Riese is a fantastic web series with a lot of room to grow, and we're excited to work with the very talented cast and crew to help them take the show to the next level, backed by the full promotional efforts that Syfy can bring to the table," said Engler. "At the same time we'll be working hand-in-hand with our TV development team to see if Riese has the potential to make the jump to TV, just like our hit show Sanctuary did."
Riese recently scooped the Streamy Award for 'Best Cinematography in a Web Series' with a further three nominations for Best Sound Design, Best Foreign Series and Art Direction. The digital series starring Christine Chatelain (Sanctuary, Fringe), Sharon Taylor (Smallville, Eureka), Ben Cotton (Stargate Atlantis, Haper's Island), and Patrick Gilmore (Fringe, Stargate Universe), was shot in Vancouver, BC, and is created by Ryan Copple and Kaleena Kiff and produced by Galen Fletcher and Nicholas Humphries.
Jonathan Ford, Executive Vice-President, Digital Acquisitions and Distribution at Fireworks International added, "Syfy is highly regarded in the digital community with a fantastic background in identifying and securing the best in new multiplatform content. We are delighted to announce this significant deal for the important US market and look forward to working with the Syfy team on the web series as well as developing Riese for television."
Riese is a fantasy-adventure based web series that chronicles a mysterious wanderer named Riese, (portrayed by Chatelain). A life-on-the-run from a world with a dim future, Riese and her trusted wolf companion, Fenrir flee their dying land of Eleysia in search of freedom as they are hunted by assassins of 'The Sect,' a terrifying religious entity. As she tries to piece together her mysterious past, Riese will take on a life and death journey with the balance and the fate of the world lying in the palm of her hands.
About Fireworks International
Fireworks International is Content Film's international television and digital distribution division with over 3,000 hours of high-quality and commercially appealing programming including an extensive slate of major drama series, non-fiction entertainment, kids live action comedy and drama series, TV movies, mini-series and special event programming. Recent additions include comedic drama series, REPUBLIC OF DOYLE, primetime drama series, THE BORDER and heart-warming family drama series, HEARTLAND; non-fiction primetime documentary specials HUNTING THE LOST SYMBOL and I KNOW WHAT I SAW; U.S. tween comedy THE ASSISTANTS; high definition multi-platform thriller series VALEMONT, GIRL NUMBER 9 and Sci-Fi thriller, RIESE; new children's programmes HALF MOON INVESTIGATIONS, FAMILY BIZ as well as the classic anime series, ROBOTECH; plus over 200 U.S. network mini-series and TV movies; and specials including the Annual U.S. PRIMETIME EMMY AWARDS show. This new product is combined with the large and valuable Fireworks library catalogue, which is complemented by a raft of formidable television shows including Gene Roddenberry's ANDROMEDA, MUTANT X and RELIC HUNTER.
Syfy is a media destination for imagination-based entertainment. With year round acclaimed original series, events, blockbuster movies, classic science fiction and fantasy programming, a dynamic Web site (www.Syfy.com), and a portfolio of adjacent business (Syfy Ventures), Syfy is a passport to limitless possibilities. Originally launched in 1992 as SCI FI Channel, and currently in 95 million homes, Syfy is a network of NBC Universal, one of the world's leading media and entertainment companies. Syfy. Imagine greater.
Movie News:
Clash of the Titans Review - Miles
Concept art for the film that's the next 2001/Blade Runner
According to Slashfilm, director Carl Erik Rinsch has already completed a full story for a feature film called Small, from which he drew the short movie as a starting point:
I have also learned that Rinsch has met with various nobel prize winning scientists and theorists in designing a world and a narrative that could be scientifically plausible. He's pretty hardcore about creating a world that could actually exist, ala 2001. I've heard that in the past, Rinsch has joked that the project is a mix between 2001, Blade Runner and Doctor Zhivago with a bit of Bourne-style action. Sounds pretty awesome and absurd at the same time (but I think that is the intent).
The Blade Runner link is no coincidence: Rinsch is a commercial director who works for Blade RunnerThe Gift. Rinsch was also the guy that Scott originally tapped to direct his proposed Alien prequel before Fox said Scott himself had to direct. Also, the Philips short movie mentions a unicorn. director Ridley Scott, and Scott is the guy behind the Philips short film experiment that produced
DVD News
Thousands trash LOTR Blu-Ray BEFORE its release!
Man, those Amazon reviewers may be the toughest crowd in Middle-earth! Even before The Lord of the Rings: The Motion Picture Trilogy was released on Blu-ray a few days ago, thousands of angry fans had trashed the product without ever having seen it.
Of the 3,156 customer reviews currently up on the site, an amazing 2,850 of them—more than 90 percent—gave the release 1 star, the lowest rating possible. What possible problem could these users have with a trilogy made up of some of the highest-grossing films of all time, one that won 17 Academy Awards?
Turns out the low ratings weren't because the thousands of Amazon users hated the film. In fact, it was because they loved it.
As C. BURNS put it in his review:
Some confusion among other reviewers that somehow we're obligated to post a five star recommendation for the movie. This is an incorrect understanding of the review process. If I were reviewing the movie itself it would get a five. This review is for the product, as listed--in other words, I DO NOT RECOMMEND BUYING THIS PRODUCT/DVD. This product is being created FOR NO OTHER REASON than to dupe people into buying this movie twice...again. Those of us who were huge fans bought the original DVDs of the theatrical releases. THEN the studio FINALLY released the extended editions, even though they could have released both at the same time. Now that Blu Ray has won the High Def battle, the studios are salivating at screwing us all again the same way!
Please do not let them get away with pretending that Blu Ray can't hold both versions on one disc--it certainly can! A simple menu option would let you watch the Extended Edition when you have time, or Theatrical Edition when you don't.
Their other argument, that "Peter Jackson is busy working on The Hobbit and will work on Extended Editions later" is 100% total BS. He's ALREADY DONE THE WORK--just copy what he did for the regular DVDs onto a new Blu Ray master!
BOTTOM-LINE: The studios will make whatever argument they think will fly to convince us they can't put both versions on one disc, because they want to double their income on this movie. Which has ALREADY MADE THEM A BILLION DOLLARS. Don't play along--let friends know not to buy ANY LOTR Blu Ray that doesn't have BOTH versions on one disc.
So what do you think? Will the fans' fury sway New Line?
And will you be buying the new Rings Blu-ray? Or waiting until something better comes along?
Justice League: http://www.imdb.com/title/tt1494772/
Misc News.
Awesome or disgusting? Star Wars AT-AT made of BACON
We were just thinking there aren't enough Star Wars items made out of pork when This Is Freaking Ridiculous posted these images,/
Yes, it's an All Terrain Armored Transport from The Empire Strike Back, made out of bacon.
Here's the official description:
The Bacon AT-AT stands 3 ft tall and is made with over 40 lbs of bacon. The body was made from foam, then the bacon was attached. This beast took 21 non-stop hours to build. If you've ever once thought to cook 40 lbs of bacon in your kitchen in one sitting, I can now personally advise against it.
Kids, don't try this one at home.
Dancing Storm Trooper tours Paris, startles the locals
You may not recognize Danny Choo's name, but his dance moves? Those we bet you'll recognize.
Choo's videos of himself dancing through the streets of Tokyo while dressed in full stormtrooper gear have been seen by millions. (In fact, the one we've embedded on our site has been viewed more than 3 million times.)
Now it looks like Choo has decided to spread the stormtrooper love to a new country—he's invaded France. He just posted images over on his blog and on Flickr from his recent trip to Paris, during which he brought "la Force" to the Eiffel Tower, the Arc de Triomphe and other famous landmarks.
Scifi 5 in 5
Top 5 (Well 6) SciFi Weapons
M41a Pulse Rifle - The M41A Pulse Rifle is the primary weapon of the USCMC in the Alien movies
Crysknives - A crysknife is a fictional weapon in the Dune universe created by Frank Herbert. According to the 1965 novel Dune, it is made from the crystal tooth of Shai'Hulud, the giant sandworms that live below the sands of the desert planet Arrakis.[1]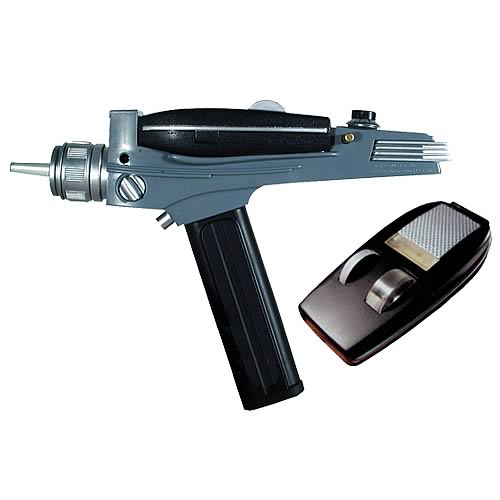 The BFG-9000 – from Doom
Comments[0]
---